Create a unique piece of sterling silver jewellery in just three hours
Suitable For: Complete Beginners
When:  Saturdays from 10am – 1pm 
Where: Birmingham Jewellery Quarter
Even with no experience of jewellery making, you can learn to make a beautiful piece of silver jewellery in just three hours.  You don't need any experience, or even to think of yourself as creative.  All you need is enthusiasm and to be up for learning something new.
Whether you're looking specifically for jewellery taster workshops, unusual hen do ideas, an alternative weekend activity or a creative day out in Birmingham, this small group workshop is a great way to make someone a special gift, or to make yourself something totally original. You can make a sterling silver ring, a silver pendant or a pair of earrings. You decide.
What do I learn in one of your workshops?
Rather than learning a set list of silversmithing techniques, you learn what you need to make your chosen jewellery design. I give you a brief overview of the techniques you can use, then we discuss the tools and the processes you need to make your piece of jewellery.  As you finish each step in the process I explain the next one.  You also see the jewellery-making techniques that other students in the class are using.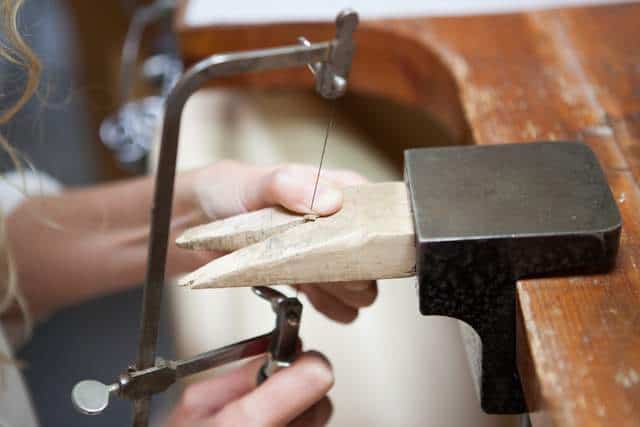 This approach does mean that every workshop is different, but in most of my jewellery workshops for beginners you learn traditional jewellery making techniques to:
cut out a design from silver using a piercing saw and file it to perfect the shape

use a blowtorch to soften (anneal) the metal so that you can shape it or texture it using a hammer with punches and blocks, or using pliers

solder pieces of silver together using flux and a soldering torch

clean the silver using silver pickle

finish your piece by burnishing, polishing and/or oxidising it.
Workshop Timetable
Take a look at the workshop availability
What do I leave with?
At the end of three hours you leave with a ready-to-wear, hand-crafted piece of sterling silver jewellery and a set of notes about the tools and the jewellery-making techniques you've learnt.
I enjoyed the course thoroughly, the time went too quickly!. Thank you so much for all the teaching and patience!*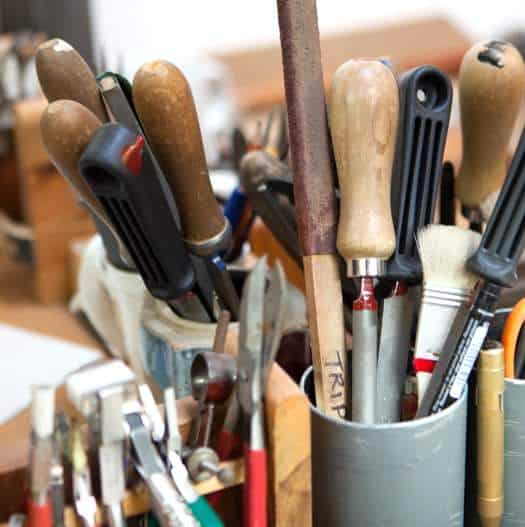 Do I need to prepare or bring anything with me?
Have a think about what you want to make and sketch it out, if you can. If this is the very first time you're making silver jewellery, it's probably best to keep your design fairly simple and limit the elements in your piece. If you're feeling a bit overwhelmed, take a look at some of the jewellery students have made in previous jewellery-making workshops. Click here for the gallery.
And if you're planning to make a silver ring for someone else, be sure to measure and calculate their ring size before you come.
Just an aside: I don't work with silver clay, but only sterling silver, so these classes are focused on traditional silver jewellery-making techniques only.
The practical details
Class size: Maximum 3 people
Cost: £85 per person for the workshop. There is also a charge for the sterling silver you use. This is charged per gram and you need to pay for this on the day by cash.  For most students the cost for silver is around £5 to £25.
Gift vouchers: Know someone who would love this class? You can buy gift vouchers for my jewellery-making workshops.
You can book and pay online using a credit or debit card. If you have any questions or want to pay by cheque, please get in touch.
Perhaps this workshop doesn't sound for you so please see our other Jewellery Courses here. If you want to know more you may find the answer on my FAQs page here.
Availability and Booking
Find the next available workshop date and book here
I just wanted to say thank you for the class on Saturday, it was great. Everyone loved my earrings by the way!*
*Testimonial disclaimer: results may vary from person to person
For a special jewellery making project or to progress your jewellery making skills, these 1-2-1 jewellery tuition sessions are ideal. Book by the hour.
When: Weds, Thurs & Fri afternoons
Where: Birmingham Jewellery Quarter
A perfect gift for someone creative who has everything. Find out more about jewellery workshop gift vouchers
When: Saturdays
Where: Birmingham Jewellery Quarter
Getting married? Design and make your very own gold or silver rings for the big day with the help of a professional jewellery-maker
When: Saturdays
Where: Birmingham Jewellery Quarter