My personalised floral heart pendant feature
The floral heart pendant from my floral hearts jewellery collection has been featured!

Valentines picks with hearts and flowers
It's always lovely to have my jewellery designs recognised. Seeing my personalised floral heart pendant in pride of place in the latest Ethical Market newsletter is no exception. Thank you Ethical Market!
You may have seen my previous blog post when my stacking rings were featured by ethical market? Ethical Market is the place to go for fairly made and ethically made products. If you haven't read that yet you can click here.
Eco-friendly Valentines Day gift ideas
I was excited to see my personalised floral heart pendant as one of the Valentine's Day gift ideas picked by Ethical Market. For anyone who loves hearts and flowers this sterling silver pendant ticks all the boxes as a perfect Valentines gift. Not only is this beautiful pendant handmade and made to order in 100% recycled silver but each one is made unique with a personal name, date or message on the back.
There are four silver heart necklaces for customers to choose from and they're all available to order online. With different sizes and finishes on offer you may want to click here to browse the options.
How the pendant is made
Using traditional jewellery making techniques a softened sheet of recycled silver is rolled between steel rollers to apply the floral design. Then, using a jeweller's saw, each heart is hand cut and stamped with a message on the reverse using number and letter punches. The back of the pendant is polished using a buffing wheel while the front is giving a matte white finish, which is a personal favourite of mine. The pendant is domed in a doming block to give depth and shape before hanging it on a long sterling silver chain. I think you'll agree that this heart necklace would be a wonderful gift to receive on Valentine's Day.
If you haven't already, you can head over to see what other valentines gift ideas ethical market have selected here.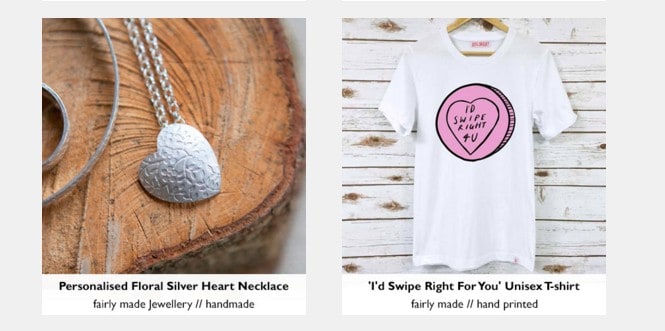 Order yours for your Valentine
Although each personalised floral heart pendant is handmade to order there is still plenty of time for me to make yours for you. It will be delivered directly to your door before 14 February, in eco friendly packaging of course. Click here for full details about this pretty necklace and to order yours. 
What personal message would you have on your heart pendant? Please let me know in the comments below, thank you.