£50 Off Wedding Ring Making
What could cement the romance in your relationship more than wedding ring making together? Right now we're offering you sentimental darlings £50 off this fabulous experience.
Before deciding if making your own wedding rings is for you can read about Natalie and Stella's experience here.

A romantic day out…
We offer wedding ring making workshops, exclusively for one couple, in our fully equiped workshop. Many couples have made their rings in gold or silver under the expert guidance of award winning jeweller Elizabeth Anne Norris and you can too. Read about how your day spent together will go here.

An unmissable offer!
If you're reading this before 14 September 2018 then you're in luck! You can book your wedding ring making workshop and receive £50 off right now. Check the availability and book your workshop online here. Use discount code MAKERINGS1 at the checkout and only pay £250 (normally £300).
Just so you know the cost of the wedding ring making workshop excludes materials. Once you book we'll be in touch to chat with you about your wedding ring designs and let you know how much the gold or silver will cost. To give you a guide to materials costs below are some costs:
Silver wedding rings will be approximately £10-£40

Ladies wedding rings in 9 carat gold will be approximately £70 – £350 and 18 carat gold will be £150 – £600

Men's wedding rings 9 carat gold will be approximately £100 – £500 and 18 carat gold will be £250 – £1000

Optional extras like hand engraving £20- £40, hallmarking £40 and stone setting £30 per stone plus the cost of the stone.
If you have any questions about wedding ring making you can email us here or click to call Elizabeth here.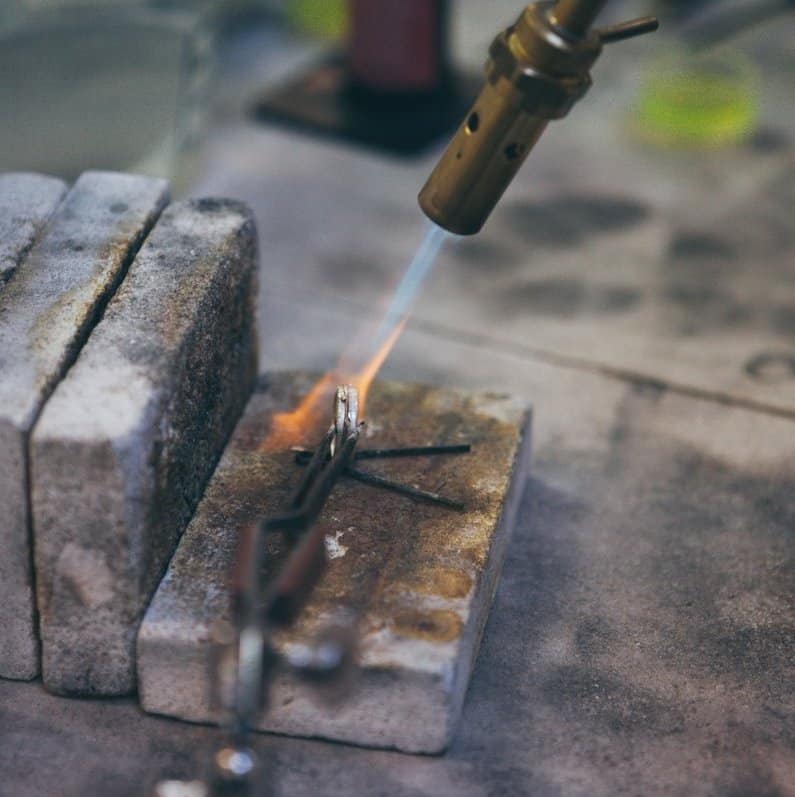 In summary
So to be clear, you can enjoy your wedding ring making experience with no prior jewellery making experience. Each stage of the ring making process will be demonstrated to you before you set to doing it yourself. Elizabeth will be on hand at every step to ensure your rings are made perfectly. You'll be very impressed with the wedding rings you make. If you need reassurance read the reviews here.
Don't miss out on this irresistibly offer for your lovey-dovey day with £50 off (normally £300)

Book before midnight 14 September to take advantage of this offer.

Be sure to use code MAKERINGS1 when you book online to receive your discount.
Click here to book the next available wedding ring making workshop now.
If you have any questions please contact us here