What is White Gold?
Lots of people wonder what white gold is. Is it a natural element? Is it really gold? How is it the silver colour? Well white gold is not a naturally occurring element, it is a man-made material which is a combination of yellow gold and white precious metals; such as silver or palladium. This gives the gold a white colour and to make finished jewellery pieces have a more silver look they can be coated in metal called rhodium. This can give jewellery a brilliant shine.
If you'd prefer to find out about sterling silver you can click here to read my previous post called "What is sterling silver?"
Why was White Gold created?
White gold as a material was created towards the end of the 19th Century when the gold was combined with copper, zinc and nickel. The nickel in the alloy was replaced in recent years with platinum and silver. This was because of reported allergic reactions to the materials when the jewellery was worn next to the skin. It was made available to people in 1912 and grew quickly in popularity. It was seen as a more affordable alternative to Platinum during the 1920s.
Why does white gold turn yellow?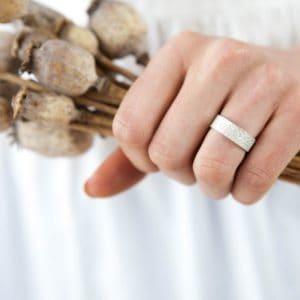 The white gold base material, a mixture of yellow gold and white alloys, is coated in rhodium and over time the rhodium plating can wear or be scratched, especially with wedding rings, revealing the base metal. Even though the white gold is a silver colour it can still have a slight yellow tone, it can be noticeable, especially if you are used to the silver colour of the material. The only way to remove the yellow tone is to re-rhodium plate jewellery which will renew the white colour and shine.
Was this helpful to you?
I hope this post 'what is white gold' was helpful and if you have any questions please don't hesitate to ask. Did this give you the information you needed? Is white gold something you would consider for your jewellery or wedding rings? I have a selection of handmade wedding ring designs in white gold that you may be interested in. For more information on the sugar ring click here and here for the daisy wedding ring. Or click directly on the images.
If you have any questions about white gold jewellery or white gold wedding rings please leave a comment below as I'd be interested to hear from you. Alternatively, you may be interested in a bespoke commission? If so can contact me here. Many thanks, Elizabeth.