Please introduce yourself…
Hi, I'm Gemma Taylor. Photography is not just my job, it's my obsession! I like creating beautiful, artistic shots – who doesn't! – but for me what's exciting is that they are also practical or serve a purpose. Shooting for independent designers and makers allows me to work with people to develop a brand image. The practical side of it may be to show off the craftsmanship and detail to increase online orders, for example, or to produce a set of lifestyle pics for Instagram, or create a look-book for stockists.
How did you become a photographer?
I've always been a writer, and I still love writing, but whenever I got paired with a photographer for an assignment I always wanted to be doing what they were doing! So after thinking that a number of times, it was time to make it happen! It was around 7 or 8 years ago when I began photographing professionally.
What's your inspiration?
It's all about the storytelling. From what's the inspiration behind a jewellery or ceramic design, to a story about people or places. I shoot and write about things that interest me, and I hope my enthusiasm comes through in my work.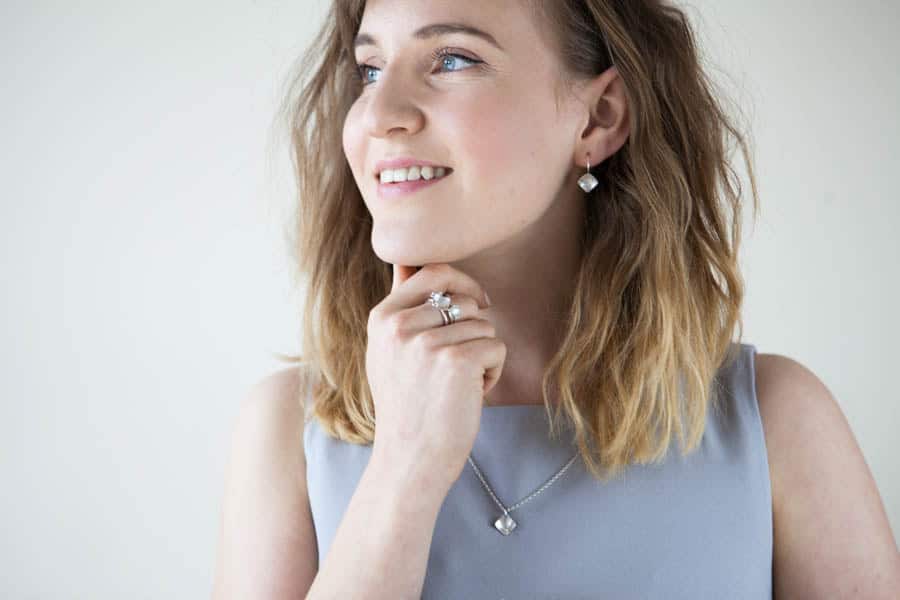 Silver Stackable Rings – Squares Drop Earrings – Sterling Silver Square Necklace
How would you describe your style?
I like to keep things simple. Although often what looks like a simple shot can mean a lot of work behind-the- scenes – from compiling an inspiration board and defining a colour palette, through to frothing coffee, or experimenting with textures and props, to achieve the desired look.
Additionally, I will work with natural light whenever possible, and incorporate dramatic light and shade in the pictures – so long as the brief suits it. Other than that it's difficult define my style, as my starting point with product photography is the designer or maker's style. What's their inspiration, who's their customer, how will they use the photos, what do they want to achieve? That shapes what the end result will look like.
Your favourite thing about Brighton?
I really enjoying living sandwiched between the sea and the South Downs, with a creative city in the middle. It means I'm not just spoilt for choice with brilliant independent designers to work with, but also where's best to enjoy a cold beer!
Any recent achievements?
I've been working on a few different things, and not all product photography. One project – curating an exhibition for the International HIV/AIDS Alliance – was just awarded Brighton Fringe Festival's 2017 Visual Arts Award. The exhibitions were judged by Brighton's Artist Open Houses and HOUSE, so that's a nice connection back to the product photography. My work can seem quite diverse in what I cover, but what underpins all of it is wanting to create memorable photos and an interesting story or brand image.
If you could pick anyone to photograph for who would it be and why?
I don't get starstruck, I'm much more intrigued by 'ordinary' folk, as they never are! I'm working on a local project, where I'm looking for people who have 'pet' seagulls that regularly visit them at home, typically for food of course! If I can work animals or nature into a shoot somehow I will… another idea I have for a jewellery shoot involves animals, and would work fabulously for someone who has very bold, neon jewellery designs – so sometimes it can work the opposite way round where I have a concept and then will look for someone whose brand matches that idea.
So if you know a neon wearing, seagull loving type of person, point them my way! My website is in the making… but you can find my contact details here for now: www.gemmataylorphoto.com
Heart Ring – Sterling Silver Ring with Hand Cut Floral Heart
Thank you so much Gemma, it was great to get to know you.
If you enjoyed reading Gemma's story and have any questions or know any seagulls you can comment below!